By Abdus Sattar Ghazali
The Urdu Academy of North America held its monthly literary session on April 16, 2017 at the Chandni Restaurant, Newark, CA. The first session of the event was dedicated to the life and work of a prominent Urdu poet, Naresh Kumar Shad.
The event was presided over by Habibullah. Poetess Kausar Saiyed was MC. She presented a well-researched maqala on the life and work Naresh Shad.
As usual, a number of Urdu well wishers recited the poetry of Naresh Shad which included: Khalid Rana, Mukesh Kacker, Moiz khan, Shaan Sehgal, Zafar Khan YousufZai, Tassaduq Attari and Abdus Sattar Ghazali. Kausar Saiyed perhaps stole the show with her melodious presentation of a popular ghazal of Naresh Shad.
:KatoN Se MeiN Ne Piyar Kiya Hai Kabhi Kabhi
PhooloN Ko Sharm Saar Kiya Hai Kabhi Kabhi
Naresh Kumar Shad was born in Ahiyapur, Urmar Tanda, District Hoshiarpur on December 11, 1927. His father Nauhariya Ram Dard Nakodari was a prominent and well known Urdu journalist and poet writer. Having born to a Bhalla family of Nakodar a small town in Jallandhar, he inherited fluent use of Urdu and Persian from his father.
Naresh Kumar Shad did his high school from Govt. High School Chunian, and got Government job and was posted at Rawalpindi and later on transferred to Jallandhar.
He was only 22 years old when his first poetry collection book named Dastak was published in Jallandhar in August 1950.
Earlier on he used to write under the pen-name of Shad Nakodari, Nakodar being his hometown but later he chose Shad as his pen-name. His first book named Dastak was very popular in Urdu poetic circles and Shad got instant shot at popularity with its success.
He was a contemporary of Sahir Ludhianvi.
Naresh Kumar Shad was a disciple of Labhu Ram Josh Malsiyani (1883-1976) who was a disciple of Nawab Mirza Daagh Dehalvi.
He wrote ghazals which had become very popular but his forte was Qat'aa and Rubai. His two collections of poetry, Qashen and Kalaam e Muntakhab were published during his lifetime. After his demise Naresh Kumar Shad Memorial Committee in the year 1970 published Shad Namah that contained his poems and articles appraising his literary output. Later on, Shad ki Shayari Shad aur Akhtar ki shayari and Adabi latife (Literary humorous stories) came to light.
[Rare 1965 photo-print of an informal gathering of poets/writers at the residence of Zia Fatehabadi.Seen left to right :- Naresh Kumar Shad, Kailash Chander Naaz, Talib Dehalvi, Khushtar Girami, Balraj Hairat, Saghar Nizami, Talib Chakwali, Munavvar Lakhnavi, Malik Ram, Jainendra Kumar, Zia Fatehabadi, Rishi Patialvi, Bahar Burney, Joginder Pal, Unwan Chishti and Krishan Mohan. Wikipedia]
Continued on page two See pictures You Tube

By Abdus Sattar Ghazali
The second session of April 2017 literary program of the Urdu Academy of North America was dedicated to the life and work of Shaukat Thanvi, a distinguished journalist, poet, playwright, columnist, feature radio writer, director, humorist, and short story writer.
The event, held at the Chandni Restaurant, Newark, CA on April 16, 2017, was presided over by a prominent Urdu poetess from Pakistan, Farhat Parveen who has three collections of her short stories "The Frozen" "From the window of Restaurant" and "The rocks of glass."
In August 2016, the Urdu Academy introduced her first poetry collection Guftum. She has started writing fiction in 90s and soon become a known figure in the history of South Asian Urdu fictions. She has a post-modern approach in all her writings, she gives a real touch of truth fullness to her fictions. she has become an established fiction writer of her age. Farhat Parveen amused the audience with her poetry recital which drew wide applause.
Dr. Ghazala Ansari presented a well researched Maqala on the life and work of Shaukat Thanvi. She also amused the audience with a humorous writing of Shaukat Thanvi. Dr. Ghazala's unique style of presentation drew wide applause.
As usual a number of Urdu enthusiasts recited the poetry of Shaukat Thanvi, which include: Kausar Saiyed, Abdus Sattar Ghazali, Moiz Khan, Tasadduq Hussain Attari, Tashie Zaheer, Zafar Khan.
Shaukat Thanvi was born on February 2,1904 in Bandarban (Mathura). His ancestors belong to Thana Bhawan (Uttar Pradesh). So he adopted the name Shaukat Thanvi according to Thana Bhawan. Shaukat Thanvi started his primary education in Bhopal. After he went to Lucknow and took admission in Mission school. It is said that Shaukat Thanvi was not a good student. He was not interested in completing his education. He left the school and joined the newspaper "Hamdam". The editor of this newspaper was Syed Jalib was a veteran journalist who trained the Shaukat Thanvi. Shaukat left the job and published his paper named "Toofan", but it was closed soon.During the job in the newspaper, Shaukat started to write poetry and prose. He showed his capacity in novel writing and poetry. In 1938, he left the journalism and joined the all India radio as a playwright and broadcaster.
After the partition of India and creation of Pakistan, he came to Lahore and joined Radio Pakistan Lahore station. He began here his famous program Qazi Jee, which was directed by him. He was broadcaster and writer of the program. Meanwhile, he worked with Pancholi art pictures as a film story and dialogue writer. He has directed a film named "Gulnaar" also.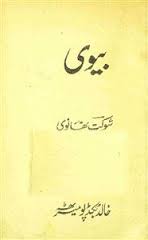 In 1957, Shaukat Thanvi left for Karachi and continued his Program Qazi Jee in Radio Karachi. He started to write a humor column in daily Jang after the death of Majeed Lahori, who was writing earlier. In 1959, when daily Jang began to publish from Rawalpindi, he joined Daily Jang as an editor in Rawalpindi. He continued to write his column with the changed surname Waghera Waghera, and it ended with his death.
Shaukat Thanvi was a prolific writer and penned some sixty books which include collections of short stories and humorous essays, plays and novels. He was also a poet and a book called Guharistan is a collection of his poetry published early in his career.
On May 4,1963, Shaukat Thanvi died in Lahore.
At the end of the program Abdus Sattar Ghazali thanked the audience to make the event successful. He particularly thanked entrepreneur Syed Sarwat for patronizing the Urdu language in the Bay Area.